Ohio -- part of "The West" after the American Revolution -- my home state.  Before it was a state, it was part of the Northwest Territory -- an inviting land of hardwood forests and freshwater rivers and lakes.  Here came Lucas Sullivant in 1797 from Mecklenburg County, Virginia, surveying up the Scioto River while evading hostile Indians, later to return with his new wife Sarah Starling and found Franklinton, now Columbus, in the Virginia Military District. Here came Germanna Colony descendant Philip Wendell and wife Barbara (Swartz) from Toms Brook, Shenandoah County, Virginia, among the first ten buyers of land in the newly opened St. Clairsville district, in the Seven Ranges in 1801, settling in Beaver Township of Guernsey (now Noble) County.  Here came Enoch Fuller, Mayflower Pilgrim descendant, from Saratoga, New York with members of the Connecticut Land Company, to Austinburg, Ashtabula County, in the Connecticut Western Reserve by 1807.  Here came my wife's ancestor, ex-"Hessian" Revolutionary War soldier Peter Schweigert and his family, from Somerset County, Pennsylvania to Beavercreek Township, Greene County in 1808.  Here came John Starr and his family, in 1811, from Bridgeport, Virginia (now WV), to join the Wendells in Beaver Township, Guernsey County.  Three of the Wendell children married three of the Starr children in 1817 and 1821.  Here came James Jack and Isaac Cornelius from Pennsylvania in the second decade of the nineteenth century, to Monroe Township in Muskingum County, and James Kirkendall from Pennsylvania, and John Gilmore, and Revolutionary War veteran Benjamin Tallman and wife Dinah (Boone) Tallman from Rockingham County, Virginia to Canal Winchester, Fairfield County.  Dinah Boone was a first cousin of Daniel Boone's.  Ben Tallman's mother, Anne Lincoln, was the sister of President Abraham Lincoln's great-grandfather John Lincoln, and a descendant of Edward Gilman, early settler of Exeter, New Hampshire.  Here came several Larimore families from Hampshire County, Virginia, in 1827 to Licking County, and the Christian Adam Munzinger family from Bruchmuehlbach, Palatinate, in 1828 to Wellington, and later Oberlin, Lorain County, and the Peter Triem family, also from the same part of Palatinate, to Stark County a couple of years later. These were some Ohio pioneers -- the ancestors of thousands of people living today, including my wife and myself.

Wendell - Jeffrey reunion, Cambridge City Park, early 1900s.
Kirkendall-Larimore reunion, at the James W. Kirkendall house on Deeds Road, Licking County, circa 1891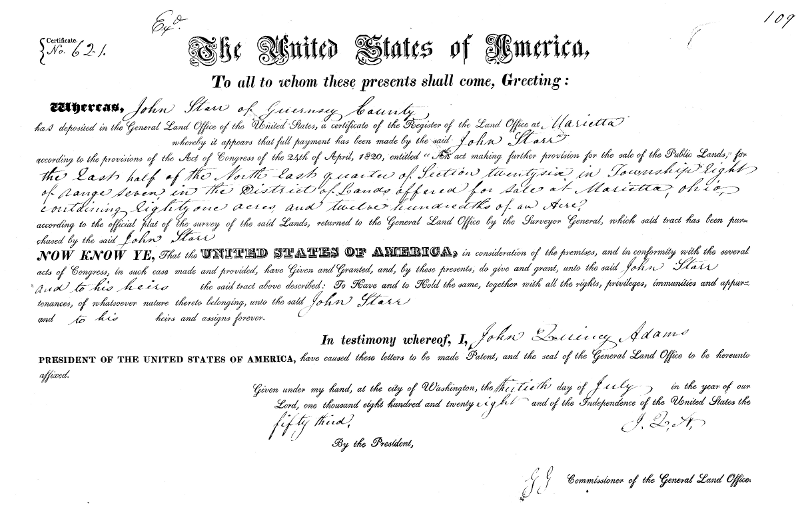 Original land purchase record of John Starr. This land is located in Beaver Township of Noble County today.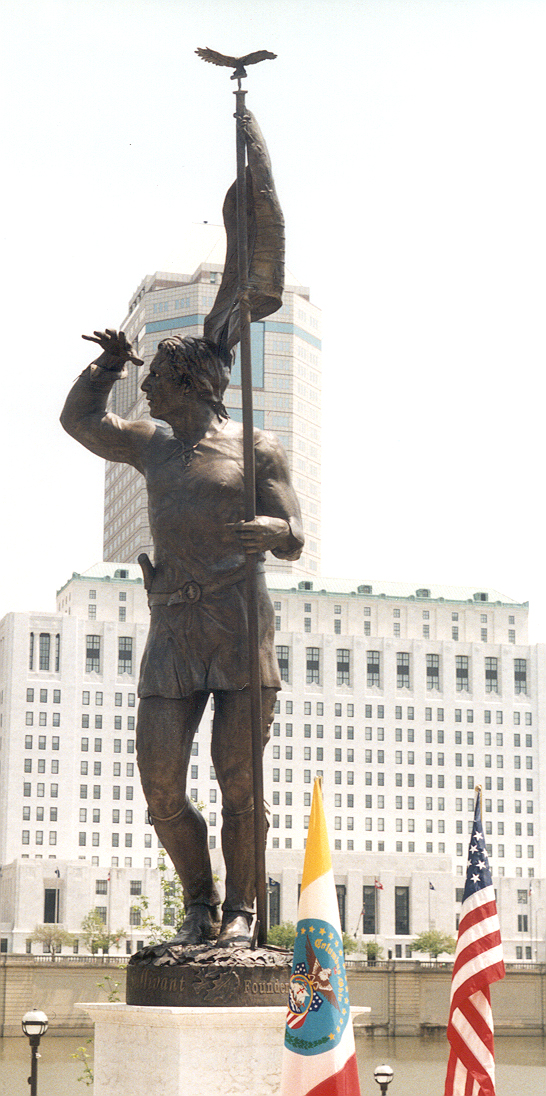 The founder, Lucas Sullivant, statue dedication, Columbus, Ohio, 2000